Forever Cardio-Health CoQ10 Nutrition Supplement for your healthy heart.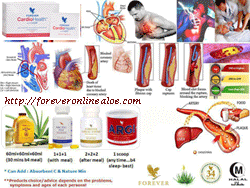 You've probably heard the ads for Coenzyme Q-10, at least subliminally. Supposedly, this wonder supplement- also known as CoQ-10, ubiquinone, or vitamin Q-  as we known and as we hear helps to prevent  cancer, heart disease, obesity, and nerve and muscle problems.
CoQ10 (I already mentioned coenzyme Q or ubiquinone) is made naturally in the body. In addition to acting as an antioxidant, it increase oxygen use at the cellular level, improving the function of heart muscle cells and boosting capacity for aerobic exercise. It is much researched and widely used.  I take it myself the Forever Cardio Health, and I frequently reccomend who favoring  prevention than as the disease has

Maximum potency of Cardio-Health with CoQ10:
Higher potency of CoQ10 created for heart support.
Essential for metabolizing function of cardiovascular system.
Helps maintain healthy blood pressure.
Helps maintain healthy cholesterol level.
Promotes energy production.
Helps healthy  blood circulation  in capillary-vessels.
Increases the immune system's strengths.
Boost physical energy.

Improve  function of immune-system.
Forever Cardio-Health has no preservatives, artificial color, lactose,and gluten

Check out more information of Forever Cardiovascular support products.
Forever Living's Cardio Health  for healthy cardiovascular and heart:
Forever Argi+with L-Arginine
Forever Arctic-Sea Omega3
Garlic-Thyme
Forever Ginkgo Plus
Forever Calcium
More info of Cardio-Health

.
These statements have not been evaluated by the Food and Drug Administration. These items are not intended to diagnose, treat, cure, or prevent any disease.