Forever Living Bee Hive Products is Your Natural Quick Energy-source .

Forever Living  possesses one of the greatest BIO maintained apiary and honey processing plant.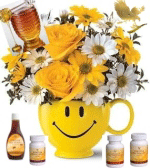 Forever Living Bee Propolis as an Natural Antibiotic
The bees wax is used to strengthen and protect the beehive, therefore it is perfectly pure. Bees couldn't leave the protection and security of their beehive in hands of elements of the kingdom; viruses, Bacterial, Fungi, ect., which are formed by the decomposition of pests that enter the swarm. To combat these, they discovered a resin that comes from the bark of trees which they proccess and use to close cracks in the honeycomb. Today this resin is known as Propolis, and it has fantastic as an natural antibiotic properties and has no side effects. Aristotle used propolis as a remedy for many different illnesses, and Pliny used it for skin sores and infections healing.
One of the characteristics of bee propolis including antioxidants and vitamins which is helps to  strengthens the defenses of the organism, or its immune system.
.

Forever Living Royal Jelly
-it has been found that Royal Jelly helps give Queen Bee a great vitality which only allows her to make thousands of eggs daily but also gives her a longevity of up to 30 times that of bees which don't fees on this nectar.

Royal Jelly is a milky-white, gelatin-like substance that is produced by the worker bees through a gland that is found in its phalanx. No one knows for certain all of the beneficial effects, but  known, can give us  vitality…
Royal Jelly possesses a large amount of Acetylcholine .This substance is one of the principal transmitters of nerve impulses. The absence of this neuro-chemical can bring as a consequence many disorders  to the nervous system.
Royal Jelly is included of Minerals: (Magnesium, Calcium, Chloride, Potassium, Sulfur, Chromium, Phosphorus) Vitamins: Vita:B1, B2, B5, B6, B1, C, D, H, Niacin, Inositol, Folic Acid ) and Protein, Nitrogen, Dextrose Extracts.
Royal Jelly boost  energy, vitality.

.
Forever Living Bee Pollen
-and honey are the only food sources found that contain the 22 nutrients required balanced nutrition, and thus for natural  health. 35 grams of Bee Pollen daily fulfills the body's daily requirement of protein. In addition to the Vitamin and Minerals, bee pollen and honey contain:
-Fatty Acid, Pigments, Moisture, Amino Acids, Flavonoids which are very important element for healthy human body.

28 minerals have been found in the body ,of which 14 are vital, Bee Pollen contains all 28.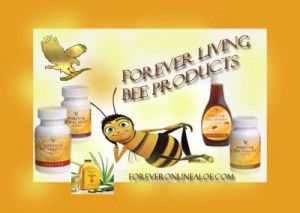 In addition to the Vitamins and Minerals,
Bee Pollen and Honey contain:
-Fatty Acids
-3to 20% Moisture
-Waxes and Resins-Growth Steroids
-Amino Acids -Amines -Lecithin,Nucleic Acids ,Flavonoids,
-Phenol Acid
  In order for the body to correctly utilize bee Pollen and to be assimilated by the intestine, it needs to be micronized,that is,ground up into extremely small particles. It should also be mixed perfectly to obtain a homogenous blend of pollen of all the nutritional components. These nutritional components contained in the Pollen depend on the type of flower the bee gathers the Pollen from.
BEE  POLLEN is an ideal help for general health  and very effective in boosting energy level and stamina (athletes).
For those  trying to lose weight the pollen helps to balance of the body protein .

Forever Living Bee Honey is natural carbohydrates ,storehouse of many goodness.
-contains of only natural sugar; glucose and fructose with high calorie value, an easy digest energy source containing over 190 different nutrients . The honey contains most vitamins and rich in trace elements that are indispensable for the body, enzymes, the catalysators of cell  metabolism, proteins and amino acids as well .
Honey complete value lasts only if it won't go through a heating process, that would destroy the honey's valuable  effect .
The regular consummation of honey increases the body's the performance and condition.  Honey acts like super gas to the organism, since its metabolism requires  little oxygen
Bee Products as a natural power-energy, and they are no preservatives, artificial colors, and flavors.
Free registration online as a distributor and you get up to 30% % discount all of yours purchase.


These statements have not been evaluated by the Food and Drug Administration. These items are not intended to diagnose, treat, cure, or prevent any disease.
Bee Hive Products

,