Forever  Aloe Vera Cosmetics Sonya Products for Your Daily Luxury Collection.

Our Sonya Beauty products including with natural antioxidant and vitamin combined products, each one designed to fill a special part in your daily skin care and beauty routine.
Forever  Sonya Skin Care and Aloe Vera Cosmetics products are one of the most effective beauty collection in the world.
It is a collection of aloe vera, white tea  and herb extracts , each one designed to  finest and latest quality of ingredients which are revitalize  your face and eye naturally twinkle. Forever aloe cosmetics more than for beauty. In addition to beautify, you will help your wine is silky, soft, velvety  and give you a healthy beauty of benefits of pure aloe vera and natural ingredients.
When in comes to skin care, indulge your face with this aloe cosmetics.



Sonya Aloe Purifying Cleanser

Sonya Aloe Refreshing Toner with White Tea

Sonya Aloe Nourishing Serum with Withe Tea

Sonya Aloe Balancing Cream 

Sonya Aloe Deep-Cleansing Exfoliator

Sonya Deep Moisturizing cream
Forever new and improves Flawless by Sonya Cosmetics Collection:
-has been created for cosmetic gurus and this is the greatest palette of the beauty products of the panel. Formulated with solid aloe vera content it represents a topnotch line of cosmetics being made from the best possible quality of ingredients that were manufactured using the most advanced technology.
The collection offers rich for all skin tones and for all occasions to bring your complexion to life. Aloe Vera cosmetics products is the major component of Sonya products hydrating, nourishing and moisturize the skin surface. Aloe Vera based creme as we known helps skin inside and outside to healthy.

The coloring elements are ground into the finest possible particles, that explain why the Sonya products are lot more "solid" than those solid by competition (you will need to apply a lot less of the Sonya collection which enables a more economical usage). One rival company ,whose quality is closest to the FLP formulas, has 10 times the size of the particles with the coloring matters.
Check out 2013′s

F

lawless by Sonya Cosmetic

s c

ollections

VIDEO
ORDER

/

Yours Natural Aloe Vera Flawless by Sonya Beauty Products




from Forever Living.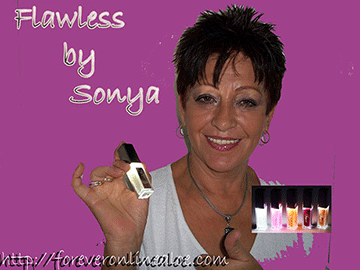 Check and choice your favorite colors of Forever Living delicious natural lipstick and cosmetic products for flawless look!