Picture Shows the  Normal and Arthritic Joints/ Why We Suffer of Arthritis

Try these Forever  nutritional supplement for your healthy joints.Nature know the best!
Forever Living Arctic-Sea Omega3
Forever Arctic- Sea
-contains Super Omega -3, Calamari oil, and oleic acid found in a olive oil. This is why it is recommended to eat a lot of fish such as sardines, tuna, salmon in addition to large amounts of olive oil.
Forever Living Berry Nectar



Forever  Berry Nectar 
The delicious flavor is totally natural, prepared from a blend of fresh cranberries and sweet, mellow apples. Fructose (a natural fruit sugar) sweetens it just enough to please both adults and children alike. Strong  antioxidant and multiplies its result .
It has been found that cranberry from same family as blackberry,strawberry and cherry,  principally of dark ciolet-blue color, contain bioflavonoids which act as anti-inflammatory and anti-oxidizing agents.
Also recommended for boost  immune, powerful of vitamin and antioxidant drink of berries and aloe vera.

Forever Living Pomesteen Power Drink
Forver Pomesteen Power as a top of the list  ORAC.  Has them all with a proprietary blend of fruit juices and extracts, including Pomegranate, Pear, Mangosteen , Raspberry, Blackberry, Blueberry and Grape Seed. ORAC value (Oxygen Radical Absorbance Capacity) is an indicator of how well an antioxidant inhibits free radical damage.
The ORAC value of fruits can vary greatly, even when testing the same fruit at different times after harvesting. What is important to know is that all of the ingredients of Forever Pomesteen Power are near the top of the list in ORAC value, especially Pomegranate and Mangosteen fruit. Other helpful elements are: minerals.

Forever Living Nature- MIN Multi-Minerals
 Forever Nature-Min
 contains trace minerals from natural sea bed deposit,-perfect blend of minerals in each tablet,these are  minerals play many roles in the human body. Nature Min has  all of minerals,what our body needs: Calcium, Magnezium, Iron , Iodine,Copper, Phosponus ….. Inter alia the Selenium , what the organization can not produce ,and I  mentioning  the Zinc.  Zinc is essential in the synthesis of proteins, actingnin the muscles and reproductive organs and  the joints. Zinc  also important role for the production of semen in the prostate .
The minerals ,together with vitamins,play a direct role in the functions of growth, development and maintenance of the joints, muscle, bones  and body.
Forever Living Lycium Plus
Forever Lycium Plus
+Licoice . Powerful antioxidant ,stimulates the formation of antibodies. Its principal properties are :stimulates nutrients, antipyrexic (lowes lever ),alternative (stimulates the cleansing of the body ).  Active Ingredients :Vitanin B1, B12, and C (fruits) . Carotene (fruits), Physalien ( fruit) ,Beta-sistosterol , Cinnamic-Acid (Root)
Forever Living A-Beta-CarE
Forever A-Beta- CarE:
is an essential formula combining vitamins A (from beta-carotene) and E, plus the antioxidant mineral Selenium. Antioxidants are vital in the fight against free radicals (chemical molecules that arise from pollutants in the body and damage healthy cells.
Forever A-Beta-CarE is a specially formulated nutritional supplement that supplies vitamin A to the body from beta-carotene. The body converts beta-carotene to vitamin A in the small intestine during digestion or when it is needed, leaving a low risk of vitamin A overdose (which can be toxic when taken alone in large doses). Beta-carotene is also a recognized antioxidant, making it an ideal companion for vitamin E and Selenium.
Selenium is a trace mineral and is one of the most powerful antioxidant nutrients known to work synergistically with both vitamin E and beta-carotene. It is beneficial in maintaining healthy skin, hair and good eyesight. Recent research shows that Selenium is especially important to men's health
Forever Living Aloe Vera Heat Lotion Supplementary helps

:

Forever Aloe Vera Heat Lotion rubbing in into sore area eases inflammation and pain.
This rich emollient lotion contains deep heating agents to make it the ideal massage companion for tired muscles and dry skin. Aloe Heat Lotion is a pH-balanced, lubricating lotion designed for a soothing, relaxing massage. The deep penetrating power of Aloe Vera will help soothe your muscles after sports or hard workouts!
Forever Living Royal Jelly



Forever Royal Jelly.
Contains C-complex ,large amount  of other natural Vitamins and also minerals, like Magnesium, Manganese, Calcium, Chloride , Silicone, Iron.  These minerals important for muscle ,joints and healthy body movement. It has also contains the 8 essential amino acids as well as the 10 secondary amino acids.
Royal Jelly was made popular after an article press which talks about the rapid recovery of Pope Pius  after. Dr.Ricardo Galeazzi gave him Royal Jelly to strengthen and revitalize him. This was described at the Second International Congress  of Bio-genetics. This article caused many people to try the royal jelly .Royal Jelly is without a doubt the perfect nutrient of thousand uses in the body.
For more effectiveness place Royal Jelly under your tongue until dissolves.

Some people has many good experience with other products of Forever Living Products , they used for the joints and arthritis problem. See on the picture: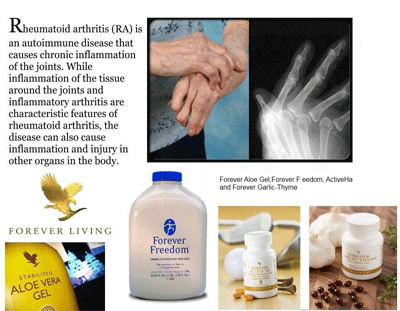 These statements have not been evaluated by the Food and Drug Administration. These items are not intended to diagnose, treat, cure, or prevent any disease.