Forever Freedom, Nature Min, Calcium, Active HA, support for Joints Keep Healthy .

Forever Living Products  can help  the mobility and flexibility your joints . Key ingredients for joint and bone health include Glucosamine, Chondroitin, MSM, Calcium,  Magnesium, and Vitamins C and D.
Many of the products in this section work to support and maintain your joints and /or bones, so you can make it through your busy day!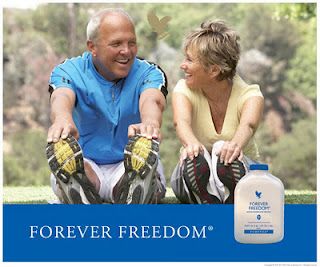 Try Forever Living Products and enjoy your  daily motion by healthy  joints .
Daily use:
Forever Living Freedom Aloe Vera drink
-large amounts of Glucosamine Sulfate (1500mg), Chondroitin Sulfate (1200mg), plus 750mg of MSM and 250mg of vitamin C per 4 oz serving
Forever Living Natura MIN
-Replace the minerals in the body and  essential element of healthy bones and body function.
Forever Living Calcium
-Forever Calcium Citrate combined with Vitamin D and Magnesium. Vitamin D helps body absorb the Calcium. Calcium is helps the strengths of  bones and  help prevent osteoporosis.
Most nutrients work in concert with each other. For example, without enough  vitamin D, your body can't absorb calcium,therefore Forever Living prepared by Calcium with vitamin D in a one capsule.
Forever Living Active HA
-(Hyaluronic Acid (HA) is a special protein that our bodies)
I have been using since 3 years these products for my joints, and I happy because improved my joints, easier to movement after a busy day too.
All our products make from  natural ingredients, does not contains any chemical ingredients.

These statements have not been evaluated by the Food and Drug Administration. These items are not intended to diagnose, treat, cure, or prevent any disease.