Free shipping promotion when you order Aloe2Go or Freedom2Go from Forever Living Products .
This promotion is  valid only for  Auto Ship Orders .
Now, you can always be sure to have your favorite 2Go drink on hand with FREE SHIPPING when you register Aloe2Go #270 and/or Freedom2Go #306 on AUTO SHIP.

1)Register as a distributor ,it's free.      CLICK HERE
-After that simply click on Setup Auto-ship Now! and complete your order. Your monthly supply will be on its way and you'll never pay for shipping!
2)Log in your   own Forever online store, then click  MY ACCOUNT menu bar option, then click Auto-Ship option and you are able  to order on "free shipping"  your favorites Aloe2Go /Freedom2Go drinks .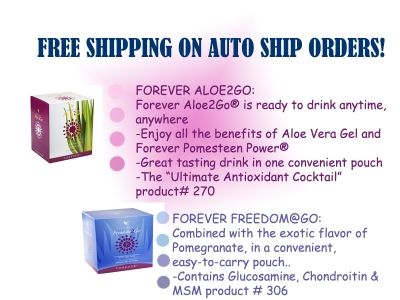 *In order to qualify for free shipping on this promotion, the Auto Ship order must contain Aloe2Go #270 and/or Freedom2Go #306.
No other products can be part of the auto-ship order. Offer valid in US and Canada only. The promotion is valid only for Auto Ship orders.