Smile and be flawless with Forever Sonya Cosmetics Beauty Products!
 Forever's  new and improved Sonya cosmetics  discovers the magic power of aloe vera. These wonderful cosmetics products got their name after Sonya Maughan who is daughter of Rex Maughan Chief Executive Officer our  Forever company.
She shared her experience and knowledge how it she offer to use Forever Sonya natural cosmetics that the result to look like perfectly and brilliantly. 
Here are some helpful  tips and her testimony how to make a magically beautified of your face.
5 Beauty Tip with Flawless by Sonya: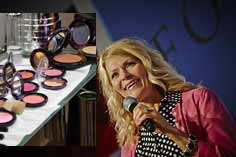 Sonya Maughan:
1) After I apply my natural Cream to Powder Foundation, I use the kabuki Brush (# 10189) to blend and buff my skin. Then I apply my Light / Medium Delicate Finishing Powder (3 386). This step of blending and buffing has made my face look awesome! I can't live without it.
2) I apply the Dark Delicate Finishing Power (# 387) to my cheek, bones, temples, and forehead to give me the warm highlights. First, I dip my large brush in the power and tap off the excess on the brush. Then with circular motions, I apply the power to my cheek bones, then on the sides of my head at the temples, and then to my forehead. I then take the Kabuki Brush and make sure I blend it in. I love how that highlights my face and gives it that bronzed look!
3) When I line my eyes on the top eyelid, I like to use the angled brow brush (#10188). First, I dip it into water, shake off the excess water, and then dip into the eyeshadow color that I want to wear. I follow the eyelid just above my eyelashes. Sometimes I make the line thicker, and sometimes I make it much thinner. When I get the eye color wet, it goes on brighter and enhances my eyes. It also stays on my eye longer and easier to apply.
4) When applying my lip liner, i love drawing my new Smile! I start at the top and line the V at the front, then at the corners of my upper lip I draw upwards to the V. On the bottom lip, I start in the middle and draw up to the corners, This has made a big difference for my lips. It makes them look fuller and definitely adds to my smile!
5 ) I love to mix the Delicious Lipsticks! My favorite combination is Bronze (#404) and Guava (# 407). Sometimes I will add to this combination some Watermelon (# 406). I like to use our Lip Brush (# 10188) to blend them all together. To give it of color to my face. I think the options here are endless! I really enjoy trying out new combinations."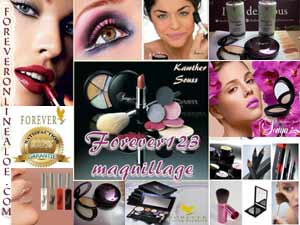 Forever  cosmetic products made with  rich and finest of natural ingredients ( aloe vera, orchid extract, clinically tested botanical extract ) that can increase your skin freshness, flexibility and helps maintaining the natural beauty of our skin.
How to make perfect smoky eyes?
Here are 5 easy steps to get this look:
1) Start by enhancing and lining your eyes with the Defining Eye Pencil in Black.
2) Next apply the darken option of a Perfect Pair Eyeshadow (we suggest Ocean, Forest or Waterfall ) on top of the Black Defining Eye Pencil with the Flawless Eyeliner Brush.
3) Then, apply a layer of the lighter shadow onto your eyelid to help accent and open the eye.
4) For the lower lashes, use the Flawless Eyeliner Brush to add a hint of color using the same shade of eye-shadow your choice for your liner.
5) Finally, combine our Volumizing Mascara and Lengthening Mascaras by applying several coats of each for rich, dramatic lashes.
flawless by Sonya Cosmetics Online STORE