Forever Aloe Moisturizing Lotion makes your skin soft, smooth, preserves its youthful firmness, freshness.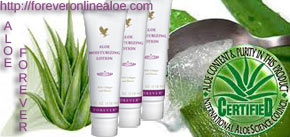 Our Aloe Moisturizing: keep hold of your skin's moisture, return its elasticity and resiliency, Renew its youthful exterior!
Aloe Vera Moisturizing Lotion has the combination of  pure and  stabilized Aloe Vera gel, Jojoba, Seed Oil, Chamomilla  including vitamins, antioxidant, Elastin and soluble Collagen.
This combination nourishes, moisturizes the skin at the same time helps to replace new skin cells, and helps maintained skin's pH balance, elasticity. Aloe Vera contains very  healthy ingredients like: vitamins, enzymes, acids, antioxidants, minerals, these  are  one of the best  beneficial effect is that regenerates the body's fluid management, supplement lost fluid, makes the skin softness and smoothness, also build your cells from inside to outside on the skin. Aloe Vera able to penetrate to deeply seven layers to the skin and from there start to build new healthy cells to out.
This unique Moisturizing creme  very useful  in the summer time: helps protect your skin from effects of the dangerous sun rays.
After applying the skin care lotion has been smoothed on and absorbed into the skin (not remain shiny and oily), makeup can be applied as usual.
Forever Aloe Natural Moisturizing perfect Beauty Regime! Ideal daily use to apply soothing and  perfect for replenishing lost moisture!
Protect yourself, protect your skin!
√ Moisturizer for face and body.
√ Skin absorbs fast.
√ Does not contain Lanolin.
√ Protect your skin.
√ Rich in texture.
√ Excellent for hands.
√ Helping to counteract the effects of pollution and the environment.
INGREDIENTS:
Aloe Barbadensis Leaf Juice (Stabilized Aloe VeraGel/gel d'aloès officinal stabilisé), Water (Aqua),C12-15 Alkyl Benzoate, Soluble Collagen, HydrolyzedElastin, Simmondsia Chinensis (Jojoba) SeedOil, Tocopherol (Natural Vitamin E/vitamin Enaturelle), Sodium Hyaluronate, Sodium PCA,Chamomilla Recutita (Matricaria).  Furthermore contains also Flower Extract, Stearic Acid, Glyceryl, Cetyl Alcohol, Stearate, Hydrogenated Polyisobutene, MethylGluceth-20, Sorbitol, Prunus Armeniaca (Apricot)Kernel Oil, Polysorbate 60, Triethanolamine, Allantoin, Dimethicone, PEG-100 Stearate, Ascorbic Acid, Diazolidinyl Urea, Methylparaben, Propylparaben, Fragrance (Parfum).
BUY Your Forever Living Products Online!
Choice " ORDER HERE" Button on the Main Menu Bar!
Forever Aloe Natural Moisturizing Lotion
Products# 063