Aloe Toothpaste Natural Prevention Avoid Tooth Decay or Pain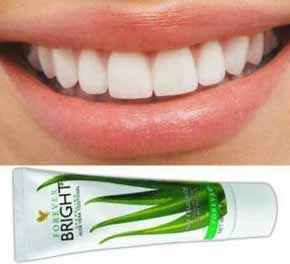 Forever Bright with Aloe Vera and Bee Propolis.
In today's world, people have been suffering earlier stages of their life from the tooth decay and tooth decay caused diseases. Just to name a few: constipation, unsuitable metabolism (the lack of chewing), bad halitosis, etc..
Tooth decay is a cavity or hole that forms in the teeth and can continue to grow until it totally destroys them.
Tooth decay causes:  mainly pain from cavities. There may be bleeding, dental hygiene and the consumption of refined sugars which favor the formation of bacteria and acids. They are also due to an inadequate diet, drinks that contains lot of refined sugar which is the greatest enemy of the healthy tooth. In addition, we consume  much cooked meals.
Tooth decay's rough sensation is felt on the tooth's enamel covering that later turns into a sharp pain. When tooth decay goes deep enough, it can penetrate even the gums, creating a hole that leaves the tooth's nerve ending uncovered easily causing pain, and can be bleeding of the gums permanently.
We offering you to try one of best natural help for dental problem: Forever Bright Aloe Toothpaste. It contains  the finest quality pure and stabilized aloe vera, natural antibiotics, bee propolis,  a marvelous formula, disinfects the mouth and throat and protects the gum. The result is one of the best selling product now on the Forever's  market.
Aloe Vera contains more than 200 health promoting compounds, vitamins, minerals and amino acids. These can help keep your teeth healthy.
Aloe vera and bee propolis (bee propolis  was already  used in ancient times as a natural antibiotic, these most effective natural ingredient helps protect your gums and teeth.
Forever  operates one of the largest beehives on the Sonora highland desert of Arizona. Far from the infrastructure, in the purest chemical-free environment which is the ideal habitat for producing some of nature's most perfect foods. The richly blooming flora is the ideal source of beehive products. It's unique!
Bee Propolis has 41 different kinds of health promoting effect.
Usage of Forever Toothgel, even if you have toothache: brushing your teeth after every meal, put a small amount in the tooth's cavity and leave it there for helpful activity. At the same time, recommended to use a small amount of aloe vera gel. It can help eliminate bleeding and may reduce pain of the ill tooth or gums.  In case of severe pain, obtain clove oil  (aromatic spice) and put one drop in the cavity periodically; if possible, cover with cotton.

Forever First Spray: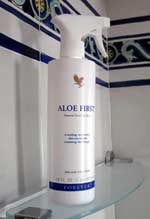 -In addition to the stabilized Aloe it contains a rich assortment of herbs making this product one the most widely used formula that is also excellent take care of your mouth and gums with spraying several times daily.



Forever Bright Toothgel which is a non-abrasive, non-fluoride formula cleaning and whitening the tooth without any harm to children's stomach. Helps to remove unfriendly food scraps, helps your tooth healthy in a long term .
Forever Bright Toothgel was winner in 1999 such as "Outstanding Brand Performance " on the yearly competition of the  Reader's  Digest Super Band.

BUY Your Forever Bright Aloe Toothpaste.
ORDER HERE
.