Forever Living Mission to Improve Your Skin Health.
 To this purpose, we make a simple promise – we offer you natural healthy beauty care products by purest stabilized aloe vera & white tea.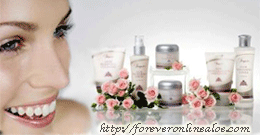 Sonya Skin & Beauty Care Collection – to maintain and improve skin health, an effective skin care regimen must contain five fundamental elements – prevention, protection, correction, hydration, and rejuvenation.
Our line advanced skincare products is designed to prevent future damage, protect healthy skin, and correct previous damage. Our Sonya Skin Care Products and all of cosmetics products achieving result means not only restoring youthful, radiant skin – it means, it helps keep natural beauty like never before, in addition to promote, regenerate, and improve and rejuvenate skin.
FLP  Company: founded in 1978, Aloe Vera discovers, develops, and sales pure stabilized  aloe vera and herb based products that improve the overall health and appearance of skin. We use chemical-free, healthy natural   ingredients at optimal compilation with proven excellent quality to elegantly fits all kind of skin type.
Aloe Vera  beauty care products give to your face and body's skin back vitality and healthy freshness. Our mission is to improve skin health.

Our Cosmetics is the essence of more than just beauty, it is an  more health and admiration and in addition to  moisturize and helps to rejuvenate your skin.
Forever Beauty Care Products including:
1. Aloe Purifying Facial Cleansing: –begin each morning and evening start you face with aloe cleanser. Contains pure stabilized aloe vera, extracts from valuable citrus fruits like lemon. A-Beta carotene  provides skin  strengthening, refreshing and shooting.
Rich in extract of Cucumber, high valuable of minerals, as well as Vitamin A, B,C…enzymes and Microelements: manganese, chopper, iron, zinc, these together   provides of the skin is flexible hydration.  In addition to  give purifying and regenerating properties.
Recommended to use: every morning and evening, apply and massage to remove makeup and impurities of the face and neck then wipe with a cotton swab and use warm water to rinse your face and neck.
2.  Aloe Refreshing Toner:-contains stabilized aloe vera, jojoba oil, cucumber oil, moisturizing, white tea extract and hyaluronic acids which may help prevents water loss from the skin cells and helps to  retain moisture of the skin.
Recommended to use: each time after you used Purifying Cleansing where necessary which is provided by a toning and refreshing feeling on the skin.
3. Aloe Nourishing Serum:-I have been using for few years this  serum which is not only a delicious natural extract of aloe vera, white tea and Mimosa Tenuiflora Bark ,but also  a wonderful rejuvenating massage for our face.  Aloe already known for thousands of years, being one of the most effective beautifying plant which inter alia excellent effect helps restore new cells of  the skin, helps avoid skin problem, and strongly moisturizing of skin. Our skin absorb  aloe vera 4 times faster than water, and going  debth 7 layer into the skin where helps maintain a health of the cells and tissue.
In addition  give the skin a silky, velvety and youthful  feeling. If you like to find one of the best skin products on the market.
Recommended to use: every morning and evening after Refreshing Toner. Approximately 3 "pumps" to fingertips, then rub of both hands together and apply to face, neck, and those area where needed.Lightweight and smooth formula.
If you like to find one of the best skin care product on the market, absolute try this wonderful Sonya serum. I'm sure this gorgeous  serum will have your favorite!
4. Aloe  Deep-Cleansing Exfoliator Scrub: this natural scrub cream as a deep-cleaner. Excellent combination of aloe vera extract with jojoba beads,  valuable ingredients of aloe vera makes  your skin moisturized and silky while effect beads of jojoba that  leaves a deep down purified complexion.
Recommended to use: 2-3 times a week depend as you need but after cleansing Sonya Purifying cleanser. Please apply the scrub to wet face and massage gently into your face and neck (avoid the eyes area) for few minutes, then rinse your face with warm water and dry with clean towel.

5) Sonya  Balancing Cream:

6) Sonya Deep Moisturizing Cream:Read More and ORDER Products.
Frequently Asked Question about Skin Care Products:
1. Is these product recommended  for both younger and older skin or who has skin problem?
-Our skin care collection excellent for both and for all skin types.
We recommend to you, start take care of your skin the sooner, than try to fix your skin problem in the future. Prevention is always the best.
Feed your skin continuosly with  best aloe based skin care collection, which is contains the important substances, regardless of age,your skin will  thankful.
.
2. What are the benefits of white tea  for our skin ?
-It is well known already ancient times too that the  white tea strong skin protection, antioxidant activity, and  powerful of vitamins , these helps to  fight free radicals as well as helps reduce the visible signs and feel of aging.
White tea contains so-called valuable  poly-phenols which are increases the elasticity of our skin. Usage white tea daily combination  with aloe vera as Sonya skin care, nourish your skin unlike anything else.
.

3. Forever Skin Care  products has any harmful effect on skin?
– These products does not contains any harmful ingredients and has no side effect. Made with natural and health promoting  ingredients which helps your skin keep healthy and youthful.
.
4. What better for me  Aloe Serum or Aloe Balancing Cream?
-Both are excellent cream for use daily and night, and you can get better result if you  use together Balancing cream with Sonya Serum. I'm sure you will love each one. The Serum is a concentrated cream, which contains slightly higher of valuable moisturizers of aloe vera and herbs than usually emulsions and creams, therefore our serum can gives better effect.
I using every day both.  I have more time before sleep, therefore I can give myself an complete skin treatment.The finishing touch apply Balancing Cream then my favorite Serum which are together gives more protection ,  more silky, glow and youthful feeling.

Check out  Video of  Fleur De Jouvence Skin Care Collection
Registered distributor able to order product up to 30% discount.
  Registration is absolutely FREE!
ORDER /

  Forever Aloe Based Products.

.