Forever Living Gentleman's Pride Aloe After Shave.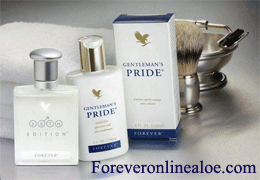 For over 5,000 years, people have held the healing powers of this aloe vera miracle plant in the highest regard. Egyptian physician used it in the treatment of skin disorders and laxative and  detox of body. Modern science has proved that these ancient healers knew what they were talking all along.
 You may not need scientists telling you that aloe gel is excellent treatment for skin care ,but it may comfort you to learn that science confirm what you already know.
Forever Aloe Vera Gentleman's Pride Men After Shave and Skin Conditioner:
-best treatment for you. Open the bottle and moisturize your face area as well ,and enjoy the fresh icy exhilaration feeling. University of Texas investigators have tested the use of aloe on wide  variety of burns and found it highly effective. So, Gentleman's Pride Aloe Vera After Shave As a protective layer on your face from sunburn.
Benefits of Aloe Vera After Shave:
–√ Aftershave or anytime moisturizing lotion
√ Alcohol-free formula
√ Soothes and moisturizes
√ Unique, fresh fragrance
Forever Aloe Vera Man's 25th Edition Alcohol-free Perfume Spry :
-aromatic  fragrance of blend Sensuous masculine blend of fruity, components proven of forever fresh feeling  and long lasting. Ingredients of aromatic notes of crushed basil and Mediterranean lavender with a refreshing combination of iced pineapple and Cambrian bergamot. The slightly fruity aromatic impression continues into the heart, where geranium and tea leaves are accented by Granny Smith apple.

Natural aromatic woody notes  fragrance perfume based of sensual musks, tea leaves, Granny Smith apple, oakmoss, cedarwood, sandalwood and tonka bean.
ORDER / Forever Man's Skin and Personal Care Products Online.
Forever Living Products offer for you pure aloe based personal care collection.