Forever  CardioHealth with Coq10 Heart and Cardiovascular Support.
CoQ10 (coenzyme Q,or ubiquinoe) is made naturally in the body. In addition to acting as an antioxidant, it increases oxygen use at the cellular level, improving the function of heart muscle cells and boosting capacity for aerobic exercise.It is much researches and widely used. I take it myself and sure to enjoy many healthy benefits of it.
My Experience with  CardioHealth Nutritional Supplement:



I know CardioHealth is a special formula designed to dissolve our aloe vera Gel to provide they're important nutritional support for overall cardiovascular system, including the best ingredients of supplies co-enzyme CoQ10.
CoQ10  promotes healthy homo cysteine levels ,and provides heart-healthy antioxidant. The Forever Cardio Health  power  is much better absorbed but still must be taken with fat-containing meal.
Serving size: 1 packet, include Vitamin C, E, B5, B12, Folate, Magnesium, Olive leaf extract, Boswellia extract,  Grape seed extract and Soy Lechitin.
Grape Seed Extract Are Sources of a Group of Flavonoids :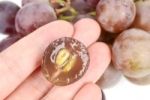 -these called proanthocyanidins, or PCOs, related to red and purple anthocyanin pigments. This supplement helping for me cardiovascular keep healthy. In the absence of specific ailments, they suggest a daily use helps maintain general health. I have been taking Cardiohealth supplement for several years for my cardiac health. Its rich in flavonoids, and all of the above we have added the heart-healthy minerals magnesium and chromium plus lecithin, known for many beneficial effect, fat-mobilizing properties, and the powerful antioxidant vitamins C and E. And I feel helps for me feeling healthier.
All the above Supplement possible Benefits:
√ Designed to dissolve easily in Aloe Vera Gel.
√ Provides CoQ10, necessary for basic cell functions.
√ Supports homocysteine levels in the blood
√ Helps maintain healthy cardial function.
√ Contains heart-healthy herbal extracts, minerals, lecithin, and antioxidant vitamins which helps to stronger immune and promote cardiac health.
 ORDER / Forever Living Aloe Vera Products Online Store.
.