Coq10 Supplements Support Your Cardiovascular Health.


Forever CardioHealth with Coq10 (Co-enzymes) is a special formula designed to dissolve easily in Forever Aloe Vera Gel, heart-healthy herbal extracts (Grape Seed, Turmeric, Boswellia, and Olive Leaf ), minerals  (magnesium and chromium plus lecithin, known for its blood vessel lubricating and fat-mobilizing properties),  antioxidant and vitamins (Vitamin B6, B12, C, E, and Folic Acid).
CoQ10 possible Benefits:
√ CoQ10 is an antioxidant that is a necessary nutrient for cell and has numerous health benefits.
√ – concentrations may decrease as we age. Supplementing with this important heart health antioxidant may help support healthy aging.
√ – is an important antioxidant that helps maintain a healthy cardiovascular system and healthy blood pressure levels already within normal range.
√ – natural nutrition can reduce CoQ10 levels in the body, also can give to you freshness and vitality in your cardiovascular system.
√ -is an higher potency heart support and supports your healthy homocysteine level too .
√ – boost your physical energy,support vitality,
√ -helps maintain for metabolizing cardiovascular system.
 Forever  CardioHealth is  packed  30 individually foil wrapped, and mix into your next glass of Aloe Vera Gel for the added benefits found in the miraculous aloe leaf. Just pour, stir, and drink – your heart will thank you!
Our Heart Support Supplement natural nutritional supplement that  provides the extra supply of CoQ10 your body needs.
Complete your diet with other Forever products for heart and cardiovascular support with a
NEW Forever ARGI+ with L-Arginine: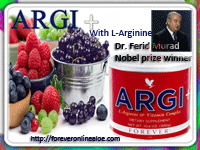 Forever Argi+ ingredients of Nobel Prize winner L-Arginine,  Pomegranate – well-known for its strong antioxidant properties, Red Wine Extract – to help support bone, muscles growth  & skeletal system, and Grape Skin, Berry extracts, for cardiovascular and  and  genitourinary system. Additional  ingredients processed of high quality of vitamin and antioxidant of Pomegranate Extract, Raspberry Juice, Morello Cherry Juice  Power, Blackberry Juice Powder, Elderberry Juice Powder,  Blackcurrant Juice Powder, and Blueberry Powder. All together increases  nitric oxide production.

Forever Argi+ provides 5 grams of L-Arginine per serving plus synergistic vitamins to give your body the boost it needs to keep going all day long. L-Arginine is an amino acid that plays many important roles in the body .Helps to maintain healthy fat and glucose metabolism.   Increase natural energy and vitality and support your stronger immune system..

CLICK on the photo to watch video
3:22
  Forever  Arctic Sea Omega3 pure source of EPA and DHA.
Forever Arctic Sea is proprietary blend of  of  DHA  rich Calamari Oil, Oleic Olive Oil, Omega 3 Fish Oil and Natural Vitamin E
that may support brain and memory function, high quality pure of DHA and EPA, helps to balanced cholesterol level. Support healthy eyes , lungs, skin and bowels.
.
Buy Cardiac Health Products these are complete nutritional program your healthy  cardiovascular function!
Click "ORDER HERE" button on the top menu bar.
.