New Forever FAB X for a healthy today and forever!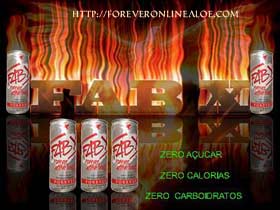 Wouldyou like to reach a healthy way for more power without harmful ingredients? 
Forever Living created one of the best healthy natural energy drink, it's called; FAB X.
FAB X Active Boost™ Energy Drink benefits:
-provides a healthy alternative including vitamins (with B6, B12) , amino acids, and electrolytes without the calories, sugar or carbs.
– FAB X including Guarana, and proprietary blend of adaptogenic herbs, minerals, vitamins, aminoes and electrolytes formulates by a leading sports scientist.
-perfect for quick energy but not only quick energy, it is a long term energy.

-maximum help to increase your power through your long  day with hard work, fitness or sport-training while you enjoy the excellent taste of our favorable drinks.
Forever Living FAB X  boost your productivity without the sugar, calories and carbs. Our energy drink  improve your energy, helps for concentration all day. Excellent go-to drink when you need fresh or refreshing. You'll get vitality in a healthy way from FAB X which can revitalize you.
Everybody needs natural energy boost, Forever's energy drink provides a healthy alternative you can enjoy with confidence. Try our Aloe Vera based Nutrition, skin and personal care for your health!

Forever Active Boost! One of the BEST Natural Energy Drink!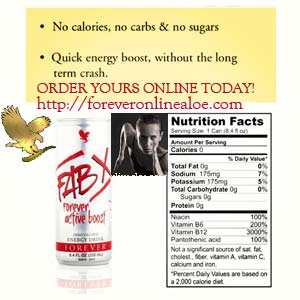 Check out  benefits of Forever healthy FAB BOOST
I exited to introduce to you a best natural energy drink! It has an amazing taste.

ORDER

FAB Energy Drink today online!