Aloe flawless by Sonya Aloe Beauty Collection From Forever.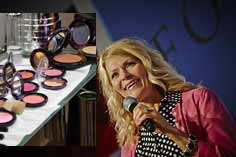 Our commitment to aloe beauty products for the customer satisfaction
-Forever created the market and have continued to generate innovative, natural  flawless by Sonya aloe beauty and cosmetics for the costumers / distributors with more than 35 years of experience because they can bring value of your health and beauty .
FOREVER 2013's New-Aloe BB Creme :
Exclusive and unique aloe beauty products that includes sun-protector.
In addition, it contains multi-active complex of clinically tested herbal extracts that provides silky and smooth to skin's appearance, while high-tech powders mattify fine lines, minor wrinkles and imperfections of your face.
Available:
Nude with SPF 20 Sunscreen (lighter) #371 and
Cocoa with SPF 10 Sunscreen (darker) #373.

1) Forever Aloe BB Nude creme ingredients:
-Aloe vera and  Olive Leaf Extract that promotes the look of flawless face and fit with various skin tones.
It provides an excellent extra-active extracts  that hydrates, protects to skin, and including sun protection which creats a soft matte, however velvety sleekness of skin which  looks naturally smooth and flawless.
Discover the natural beauty of the flawless by Sonya collection.
2) Forever Aloe BB Cocoa Creme ingredients:
-Aloe Vera with Olive Leaf Extract. These  provides an excellent multi-active extracts  which can hydrate, conceal minor wrinkles, smoothing of skin and  leaving skin look naturally flawless. Including important broad spectrum sun protection whic against harmful rays while reducing the appearance of redness and  acne using a specially formulated chemical-free, "tinted sunscreen" that  blends easily with the skin.

Discover the natural beauty products of Forever flawless by Sonya.
Both are:  Nude and Cocoa immediately became my favorite make-up. I'm mixing together two colors and so magically seems upbringing beauty and silky surface on my face and of course looks like a natural skin color when I finished with my makeup.
How do we use these fantastic collection:
1.
Apply to cleansed skin to even out the skin tone and can provide smoother and youthful  looking skin.
2. This acts as a primer or makeup base for your foundation.
3. After aloe BB crème, apply your flawless by Sonya™ Cream to Powder Foundation or Mineral Makeup over the aloe BB crème.
The Foundation Brush from The Master Brush Collection is the perfect fit for flawless by Sonya makeup.
New 2013's flawless by Sonya Aloe Vera Beauty collection for more love:

flawless by Sonya™ Cream to Powder Foundation

flawless by Sonya™ Mineral Makeup

flawless by Sonya™ Delicate Finishing Powder

flawless by Sonya™ Brilliant Blush
 Introducing 

VIDEO

  of New Forever flawless by Sonya Collection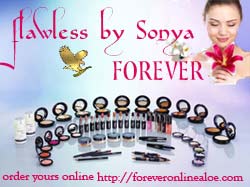 ORDER Sonya Aloe Vera Beauty Products Today!