You  are browsing one of the  best eye firming, revitalizing under-eye cream.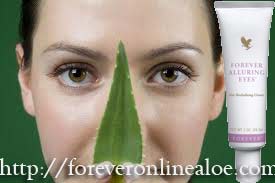 Forever Living Alluring Eye Cream:
-powerful ingredients work synergistically in this firming eye treatment to help smooth early signs of aging. Forever Alluring Eye Cream may be one of the best natural  way to help eye wrinkles.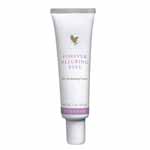 Forever Alluring Eyes Cream is formulated with a special complex to combat symptoms such as puffiness, sagging skin, and dark circles – all specific to the delicate eye area.
This first line of defense against environmentally induced skin damage supports collagen synthesis and accelerates the skin ability to repair resulting from UV light, pollutants, and harmful chemicals.
Major ingredients Alluring Eye Cream include:
Aloe Barbadensis Gel (Stabilized Aloe Vera gel) – nature's original skin protector. Accelerates the skin's ability to repair itself.
Caprylic/Capric Triglyceride – one of the best  natural emollient from coconut oil, which moisturizes without a heavy, greasy feel.
Jojoba Ester –  an emollient made with Jojoba Oil. An excellent skin conditioner and moisturizing agent, it provides a fine consistency to the cream.
Glycerin – it ensures the skin moisture. Supports collagen synthesis.
Squalane – a fine emollient, nourishes and conditions without a greasy feel. Helps minimize the appearance of fine lines and dryness of skin.
Sodium Hyaluronate – one of the most effective moisturizing agents, due to its highly hydrophilic (water-seeking) properties. It helps improve suppleness and elasticity and minimizes the signs of wrinkles, dark circles and puffiness of the skin.
Tocopherol – a high value of  source of Vitamin E, it helps soften wrinkles and moisturize, protects the skin effects from against stress factors and environmental aggressors. Pat on and smooth gently around eye areas.
Forever Alluring Eyes® is a revitalizing under-eye cream, firming cream formulated with Stabilized Aloe Vera gel that's one of the best  ingredients to reduce the appearance of wrinkles and signs of old age.
Check out Forever Aloe Epiblanc cream for dark spots.



ORDER

/ Your Alluring Eye Cream Today Online.

Registered distributor order products up to 30% discount.  Registration is free and takes 3 minutes online, just click "JOIN NOW' button and fill up registration form and you are ready to order for discount price.
.