Forever Living Epiblanc against of old-age dark spots.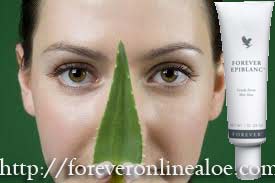 Forever Epiblanc exclusive formula is specifically designed to help  brightening the complexion  while helping to diminish the appearance of dark spots. Perfect cream for problematic and photo-damaged skin.
 Forever Epiblanc contains 100% stabilized Aloe Vera that is an excellent base for natural botanical such as Arbutin (Bearberry), Rumex Occidentalis and Natural Vitamin E, should be used for dark spots in your skin. Designed for maximum efficacy and stability.
Forever Epiblanc formulated with one of the best  quality of Stabilized Pure Aloe Vera and herbal ingredients and process technologies supports the cell regeneration. The natural vitamins helps  to diminish the appearance of fine dark spots or age spots.
Forever Epiblanc Benefits:
-Helps reduce the appearance of fine lines, age spots, blemishes.
Helps cover dark color of spots while preserves optimal retain stability.
Brightens the complexion, diminishes new appearance of dark spots.
Forever Epiblanc® is most effective when applied directly to blemishes or dark spots on the skin.
Caution: when you applying near eye area, avoid contact with eyes. Rinse thoroughly with water if you have irritation. Use this wonderful aloe vera based  products with Sonya natural toner, moisturizer and some of your favorite cosmetics and beauty Forever's products. Nature knows the best. Aloe vera has been used for thousands of years to keep women's beauty and they're youth.
Check out Forever Alluring Eyes cream for no more eye wrinkle !
ORDER / Your Forever Aloe Epiblanc!