You  find here about beneficial Forever Aloe First Spray.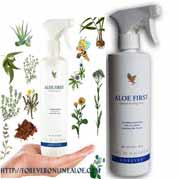 I would like to share my wonderful experience about First
I have been in Forever Living business since 2003. Around that time my hair was very dry. In Florida where I live, the sun drying my hair. My lucky day was when finally I met Forever Living aloe vera products opportunity by my sponsor.
Inter alia the first of product what I bought the Aloe First spray, that I would try beneficial experience of Forever products. My sponsor recommended to try Aloe Vera First Spray for my hair and of course together some nutritional supplements in order to increase to stronger my immune system which are very helpful for healthy skin and hair also.

I mentioned arlier I live in Florida so, it was not a problem to spray in a quasi every hour for skin of my head (because the weather is favorable for it. I could to half hourly). I started to use Aloe First spray with a great hope and at the same time I started drinking Forever Aloe Vera gel, and I also picked daily use A-Beta-CareE, Nature's18 as well as Nature Min. These products made highest quality of ingredient which are give us the best result.
Only a few days passed aloe First spry I used for my hair then every day getting brighter and better. Two weeks after I started using these excellent Forever Aloe products, which are made me more happier.
I sent to my grandson who living in Hungary. His mom used to, when little boy, mosquito bite, and in a summer season also very helpful for them aloe spray, helps protect skin from dangerous sunshine. Also we know their many beneficial properties, complete this powerful formula because contains Aloe Vera Gel,Bee Propolis, Allantoin and eleven exclusive plant extracts
My family love these products including Aloe First and I happy I can help them.

Here is another happy ending  with Aloe First Spray:
-lady friend of mine went to the beach last weekend. She spent the whole day on the beach. That evening  she looked like a fire, her face burned and she felt so much pain in her face and in her whole skin. The next day morning  her face already was terrible, went down the upper layer from the face skin. She got  very ugly sunburn.
Immediately came to me at night for some kind of aloe help. I gave to her Aloe First and Aloe Gelly to applying her skin and  few hours after  her skin looks much better and. One day after in the  her face got back normally color, and 2 days after whole sunburn was gone.
Forever  Aloe First® Contains:
Bee Propolis, Allantoin and eleven beneficial herb extracts. There benefits are:


-for skin soothing

-cleansing properties of the Aloe Vera Gel.

-pH-balanced spray.

-after sunburns, burns, minor cuts, scrapes, etc.

-excellent help for your hair health.

It is even used in some hair salons as a pre-perm solution, as it helps combat the drying effects of perming solutions.
Every first-aid kit should have one!
Product# 040 Price per bottle/ 16 fl.oz. $16.80
Aloe First Spray Benefits:
I recommend Aloe First spray for every household. Quick natural help for skin, furthermore very useful for your favorite animals's hair, skin etc.. Only one area exceptional, this is eye. Do not spray Aloe First to eye!
Aloe First is an excellent addition every household to any first aid kit. This exclusive skin soothing formula is an excellent first step for shiny healthy hair, and soothing minor skin irritations.

 ORDER Your Aloe Vera First Today Online!