Forever Living Essential Oils – Carrier Oil.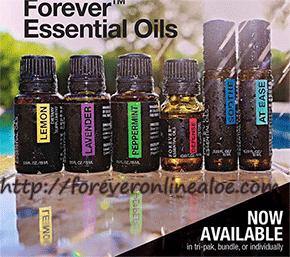 Humanity has been using aromatherapy oils for thousands of years, mainly for the harmony of the right being and for better health. Essentials for aromatherapy are usually the  spa treatments, massages and skin ailments/conditions.
In 2015 we have announced our new line of Forever Essential Oils! Forever Living launched the best ingredients and 100% pure oils with our own trademarked. Created with  Citrus, peppermint, lavender . These are unique quality, harvested from the best cultivation areas.
The Citrus grown in Argentina and Italy. Lemons are grown in California, where the climate is best for them in order to produce the most active substance of the plant.
The Peppermint comes North America's top of West locus. Its scent disinfects, and in addition to other beneficial effects, it is appetite suppressant because it reduces the feeling of hunger. What makes our Peppermint so special? It's unique! Grown in soil, saturated with volcanic ash. It has nutrients that can't be found anywhere else in the world. Our Forever Peppermint Essential Oil is one of a kind.
The Lavender grown in South Africa and Bulgaria where the best places of production is. The effect is fantastic! Our lavender oil is second to none! It has the most fragrant and its the most therapeutic out of any lavender in the world.
The Soothe, defense, at ease. Carrier is a special raw material from the world's best places to acquire for the company. The vibration of oils and therapeutic effects is genius. Analgesic for outside and inside!

Forever Essential Oils – Carrier Oil;
– brilliant Essential Oils  that is excellent emollient fluid, fortified with the high quality of natural ingredients including vitamins and important antioxidants.
The carrier oil created with a colorless and odorless derivative of coconut oil, (triglyceride, capric/ caprylic ), which are easy to absorb and suitable for every kind of skin.
Forever Living Carrier Oil is unique blend of rose hips oil, sesame oil, apricot kernel oil and borage oil that is rich in vitamins, such as A, C and E including antioxidants and other vitamins. They help rejuvenate and makes your skin healthy In additional, it helps deliver all the benefits of the Forever Essential Oils.
How to use Forever Essential Oils?
Forever Essential Oils are concentrates that can be diluted. Don't be afraid, the effect won't be less. In addition to this you can use it for aromatherapy candles, massage or in the bath water, rubbed and directly applied to the skin. Home, car, office, hospitality for guests, disinfection, stimulation, sedation, pain relief, improved concentration.
We have six different kind of oil:
✓ Forever™ Essential Oils – Carrier Oil
– 4 FL. OZ./118 mL
– # 505 – retail price; $16.87
✓ Forever™ Essential Oils – Lavender
– 0.5 OZ. / 15mL
– #506 -retail price; $26.95
✓ Forever™ Essential Oils – Lemon
– 0.5 OZ / 15 mL
– #507 – retail price; $14.29
✓ Forever™ Essential Oils – Peppermint
– 0.5 OZ / 15 mL
– #508 – retail price; $19.95
✓ Forever™ Essential Oils – At Ease
– 0.33 OZ / 10mL
– # 509 – retail price; 14.29
✓ Forever™ Essential Oils – Defense
– 0.33 OZ / 10 mL
– # 510 – retail price; $27.95
Relaxing therapeutic oils for boost immune system, help soothing and relaxing. Make more Harmony both inside and outside of the body!