Forever Living Ultra Lite Protein Shake with Aminotein.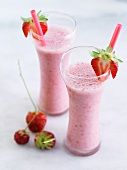 Did you know protein is found in every tissue and CANNOT be produced by our body? The  proper diet and supplementation will ensure that you are obtaining adequate levels of this essential macronutrient and its the key to maintaining a healthy weight and immune system. Forever Lite Ultra Shake (#324 Vanilla and # 325 Chocolate) with Aminotein can help you to increase of vitamins and minerals.
Soy is a complete, plant-based protein with the quality being equivalent to that of whey or animal-based protein sources. It's ideal for vegetarians, low in fat and does not contain dairy. Protein in general must meet high standards to be considered "complete", and most plant-based proteins are lacking in one or more of the essential amino acids, making them " incomplete". However, soy protein meets or exceeds the essential amino acid requirements for those aged two years and older.
The soy protein additional benefits: support of muscle tissue, support for  immune health and  helping us to maintain our weight. Soy also supports cardiovascular health.
In fact, the US Food and Drug administration states that 25 grams of soy protein per day, as a part of a diet low in saturated fat and cholesterol, may reduce the risk of heart disease.
How can you get 25 grams of soy protein per day?
Two shakes made with our Forever Lite Ultra formula will provide you with 34 grams! In addition to soy, we have included a specialized enzyme blend called Aminotein to help your body break down the protein and absorb the amino acids.
Why would our body need help digesting protein?
Several factors can inhibit protein digestion, including the environment, age, illness, and metabolic predisposition. If you're going to go to extra effort of including a protein supplement in your diet, optimal absorption is the key!

Here at Forever Living , your health is our priority.
If you're looking to promote energy, weight management, and support immune function, look no further. Forever Lite ultra with Aminotein,- is a perfect addition to your daily routine.

Not only is a soy protein delicious, safe and effective Shake with Aminotein also contains many vitamins and minerals to support your body. Whether you are a skilled athlete or busy professional, optimal protein intake may help you look and feel you best.
It contains 21 serving in a box, plus feeder spoon. You can mix with water or milk as you like with fruits.
BUY Forever Lite Ultra Shake Today!
Click "ORDER HERE" button top of menu bar.