Forever Lite Ultra Shake with Aminotein.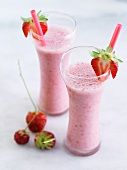 Forever Lite Ultra Shake with Aminotein is the perfect addition to your healthy lifestyle. With skim milk and 100% of Reference Daily Intake ( RDI) for the minerals and vitamin shown  in the Nutrition Facts section. Including 18 important amino acid, including essential, non-essential and the branch-chain amino acids.
Forever Lite Ultra Shake with Aminotein integrates new thinking with new technologies to help you maintain good diet and lifestyle.
Two serving each day of Forever Lite Ultra Shake, added to 10 ounces of skim milk, supply a full 100% vitamin and minerals, what the body needs. 100% of Reference Daily Intake.
Forever Lite Ultra Ingredients :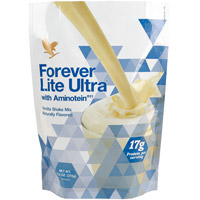 Soy Protein Isolate, Fructose, Fructooligosaccharides, Dicalcium Phosphate, Natural Vanilla Flavor, Guar Gum, Aminogen®†† (Patented Protease Blend), Safflower Oil, Soy Lecithin, Disodium Phosphate, Ascorbic Acid, Sucralose, D-Alpha-Tocopheryl Acetate, Biotin, Beta Carotene, Niacinamide, Vitamin A Palmitate, Zinc Oxide, D-Calcium Pantothenate, Potassium,Iodide, Vitamin D3, Pyridoxine Hydrochloride, Brewer's Yeast, Thiamine Hydrochloride, Cyanocobalamin, Riboflavin, Folic Acid, Spirulina, Chromium Chloride, Sodium Selenite.
Aminotein and Aminogen are registered trademarks of Triarco Industries. Aminogen® is protected by U.S. Patent No. 5,387,422.
Forever Lite Ultra® is also perfect part of Forever's Clean9 Program (body detoxification) of Weight Management. It will help you take charge of your health and put you on the path to effective and sustained weight management!
Make a commitment:
Forever Loose Weight Detox Program is a commitment that requires self-discipline and sacrifice. The results will be much better if you have mentally decided that "NOW" is the time to lose the weight. The weight loss process can be difficult for some. Many people have tried the latest "fad diet", which result in losing nothing, or maybe a few pounds, which they inevitably gain back when the diet is over. It is important that you are committed to making the lifestyle changes that will help you achieve and maintain your weight loss goals.
Experience has shown that for most individuals the first two days of
Forever Clean 9 program are the little difficult. Thus, we recommend starting the program on a weekend. Not only will you likely be more available to offer her/his support in a moment of weakness.
Since Clean 9 is designed as a Nutritional Cleansing program. You will develop long-term habits that will not only help you lose weight and keep it off, but also live a more active and healthy life.
Forever Ultra Shake  is a part of Weight Management and Clean 9  cleanse program, but excellent additions of your daily nutrition and vitamin needed.  About 21 servings.
See How Do You Make Different  Flavor of Forever Ultra Shake.
Forever Lite Ultra Shake is your low-carb lifestyle! Be Successful with Forever Weight Management Program!
Buy Online Today!
Choice "ORDER HERE" button on top menu bar.