Forever Living Pomesteen Power Antioxidant Drink.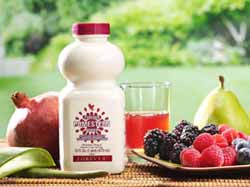 Experience the incredible power of antioxidant supplements. Forever Pomesteen power not only has power but offer an incredibly rich fruity flavor, it also satisfies cravings for something a little more interesting than a trip to the water cooler.
With its proprietary blend of fruit and extract including Pomegranate, Mangosteen, Pear, Raspberry, Blackberry, Blueberry and Grape Seed. Pomesteen is high value  of phytonutrients. Phytonutrients  can be found in vegetable dyeing material, that's why most can be found of the highly color vegetables and fruits, and mature in the sunshine.
Forever Pomesteen is processed from valuable fruits on the ORAC list. 
ORAC value (Oxygen Radical Absorbance Capacity) is an indicator of how well an antioxidant inhibits free radical damage. The ORAC value of fruits can vary greatly, even when testing the same fruit at different times after harvesting. What is important to know is that all of the ingredients of Forever Pomesteen Power Energy Drink are near the top of the list in ORAC value, especially Pomegranate and Mangosteen fruit.

Pomesteen Power Natural Fruit Juice Beneficial effects :
 Forever Pomesteen Power® combines vitamin, phytonutrients antioxidant rich Pomegranate and Mangosteen in a unique blend of fruit juices and extracts to keep your body powered! Your daily dose of preventative health comes in a tasty beverage of our antioxidats drink.

Mangosteen Fruit  is Queen Victoria to declare it her favorite fruit. Mangosteens have long been used in Southeas Asia to promote energy immunity, and cardio function.

Full of beneficial xanthones and other phytonutrients. Xanthones are a family of naturally occurring nutritional compounds in fruits that are super powerful Antioxidants and rich of Vitamin.

.
.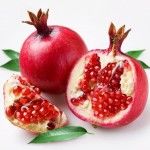 Pomegranate fruit (punica granatum) one of the healthiest fruits from medieval Latin call "small apple tree" , were grown in ancient Egypt, Babylon, India and Iran. Pomegranate health benefits of this antioxidant-rich fruit and vitamin and Pomegranate juice has more polyphenol antioxidants than red wine, green tea, cranberry juice and orange juice. In addition, it is a good, source of Vitamins C. Vitamin-C occurs naturally in delicious foods like citrus peppers, and sweet potatoes. Vitamin C has been shown to support the immune system, increase absorption, and help protect cells from free radicals Promotes healthy bones, tissue. Natural energy and support vitality.
Forever Living Pomesteen Power drink full of pomegranate.
Forever Absorbent C vitamin is high value of phytonutrients also.
.

Blackberry Fruit is nutrient-rich, low-calorie, low-fat fruit that boost any nutritional benefits.
Also top of the ORAC charts.  Antioxidants highly value of also  found in such as Forever Living Products.To get the full health benefits of this wondrous mangosteen  fruit.Try the Forever Pomesteen. The various components drink  makes from the  best fruits,  where you get most of the health benefits.
.
.
Supplement Fact of Pomesteen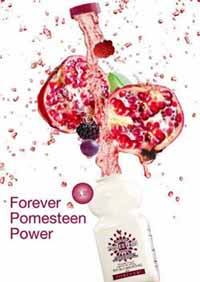 Serving Size 1 fl. oz. (30ml)
Servings Per Container 16
Amount Per Serving % Daily Value*
Calories 35
Total Carbohydrate 8g 3%*
Sugars 7g Sodium 10mg < 1%*
Vitamin C (as ascorbic acid) 24mg 40%
Proprietary Blend 30ml †
Pomegranate Fruit, Mangosteens Fruit (Garcinia mangostana L.), Raspberry Fruit, Blackberry Fruit, Blueberry Fruit, Pear Fruit and Grape Seed Extract.
 Daily Values are based on a 2,000 calorie diet.
† Daily Value not established.
Other Ingredients:
Stabilized Aloe Vera Gel
Potassium Sorbite (To Help Protect Flavor).
Contents:
16 fl. oz. (1 pint) (473 ml)
Pomesteen Drink Benefits:
√ Daily super power strongest antioxidant drink.
√ Unique blend of fruit juices and extracts.
√ High quality of phytonutrients which are boost body health.
√ Helps to fight free radicals.
√ Improve weakened body.
√ Helps in building red blood cell.
√ Exotic flavor that everyone loves.
*Certified :KOSHER  ISLAMIC, ΕΟΦ, CRUELTY FREE
So, begin your day with the powerful blast of strongest antioxidants from Forever Pomesteen Power.
 ORDER / Your Daily Antioxidant Pomesteen Drink.
.