Pamper Your Skin's pH Balance with Forever Aloe Skin Care Products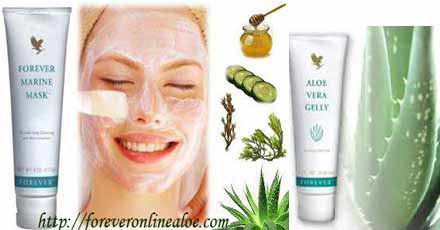 Forever Skin Care Products are made from pure aloe vera gel with natural herbs highly beneficial for your skin. The skin is the largest organ in our body and covers an area of 12 to 20 square feet. It is made up of 80% water.
Our skin has seven layers called the Epidermis. This in turn has five sub-layers with addition to the Dermis and the Subcutis. Let us examine them briefly:
Epidermis » This is a superficial layer that is no thicker than a sheet of paper and it defends us from the pollution of the outside world.
Dermis » This is the middle layer of your skin. It is wide and has collagen and elastin fibers that provide your skin with the formation, strength and elasticity you need.
Subcutaneous » This layer of the skin is primarily fat and is the source of the nerves and blood vessels in the skin. It is also the roots of the sweat glands and hair follicles.
Why Should You Opt For Aloe Vera Skin Care Products Over Others?
Aloe Vera gel is a natural antioxidant that fights free radicals in the skin and gives us a rejuvenating look. You will find a gel like substance in the leaves of the aloe vera plant. The gel has many vitamins like Vitamin E essential for healthy skin besides minerals, enzymes and amino acids. In fact, you can find over 250 healthy skin ingredients in this plant.
This helps us to match the pH balance of the skin and it will be able to absorb the goodness of the aloe vera gel four times faster than water. The skin also gets a huge source of antioxidants. It also acts as a powerful moisturizer.
Aloe Vera also has the power to enhance the power of Fibroblasts. These are special cells in our skin that create fiber like collagen and elastin. They make the skin look healthy, smooth and supple. The higher its degree, the younger we look.
Discover The Magic Of Forever Favorite Aloe Vera Body Skin Care Cream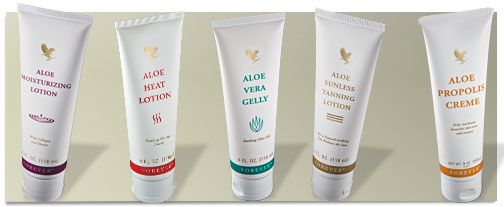 Let us take a look at some excellent cream products available for you under the Forever brand:
 Propolis Cream

Everyone is discovering the huge benefits of this popular aloe vera skin cream that contains the goodness of Bee Propolis. This component helps the skin naturally to heal from outside and within. The Forever Living Skin Care Cream has a high level of this nutrition supplement and this benefits your skin greatly.
This amazing cream is one of the best composed skin care creams available in the market today. It caters to all kinds of skin issues and helps to maintain the pH balance of the skin in a large way. The cream helps in all kinds of skin deformation and it is a natural  helps  maintain a healthy skin tone and textures. The primary function of the cream is to smoothen, condition and  excellent skin moisturizer each day!
Forever Heat Lotion Cream (Red)

Another popular Forever Cream is the Forever Heat Lotion Cream (Red). This rich cream is ideal massage lotion. The cream has a heating, soothing and penetrating effect. It is used widely by physical therapists, coaches and masseurs, soothing relief after sports or working out. So cream is very good for athletes. They use it for warming up and relaxing the muscles. Rich, emollient formula.
Aloe Vera Gel Cream (Green)

Here you are able to get the skin care you are looking for in a single bottle. This cream has the goodness of water, leaf oil, eucalyptus, jojoba, kernel, apricot and other extracts of beneficial herbs. These extracts are warming agents and recommended every family  for any first-aid kit because Aloe Vera Gelly provides temporary relief from minor skin irritations, also be used on the skin prior to ultrasonic treatment, or after electrolysis. . The ideal topical application for soothing, moisturizing and conditioning the skin.
Forever Aloe Lotion (Blue)

This cream has aloe collagen, elastin, jojoba and soluble collagen that is ideal and perfect for people having vein, joint and lower back problems. The ingredients helps skin by regenerating and moisturizing. The cream has a very good hydrating effect on the skin and it is successful for penetrating into the deep tissues of the body. Its good help when it comes to the treatment of dry and chapped skin.
Aloe Vera Moisturizing creme ( Purple)

This perfect skin cream has the richness of aloe vera, collagen and elastin. It is very good for skin rejuvenation, moisturization and maintaining the cellulite balance of the skin. The aloe vera is good for hand, face and body moisturizing also helping to counteract the effects of pollution and the environment. Rich is texture.  Excellent and usefull before makeup,once the lotion has been easily absorbed absorbed into the skin, makeup can be applied as usual.
Forever Aloe First Spray
This cream is popular and ideal for daily use as it contains aloe vera, allantoin and 11 different kinds of herbal extracts. The essences of this cream should be kept in every house as it is excellent to be used in case of  skin burns, runny nose, mosquito bites, ear and flu infections and more. They smoothens minor irritations of the skin and is excellent for healthy hair growth. The cream like the others under the Forever brand is rich in antioxidants and you can spray it on any area except the eye.
Forever Aloe Vera Facial Products Care For You!
With Forever Aloe Vera Facial Products you receive the care you deserve. They are herb based products perfect for all types of skin and they give your face the health, radiance and moisture it needs. If you are looking for fresh and rejuvenated skin you can opt for the comprehensive facial care set created with an innovative skin friendly technology containing safe and natural ingredients.
Aloe Fleur de Jouvence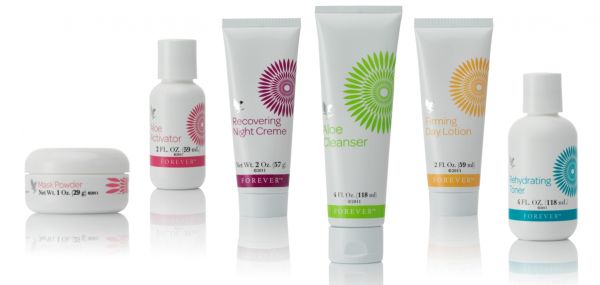 For more updated information about different skin care collections, check this Video of Fleur de Jouvence.
Forever Flawless With Sonya Facial Skin Care Products
Forever Living creates and makes high quality and flawless cosmetics for you. All products are made with Aloe Vera, Jojoba, white tea and powerful herbal extracts. Each one of them has been made with the target to occupy a special place and part in your daily skincare routine!
Sonya's Skin Care Beauty Kit including: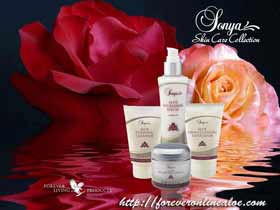 ➛ Sonya Aloe Purifying Cleanser

➛ Sonya Refreshing Toner with White Tea


➛ Sonya Nourishing Serum with White Tea

➛ Sonya Aloe Deep-Cleansing Exfoliator

➛ Sonya Aloe Deep Moisturizing Cream
We all want to look our best during every day and the secret to a rosy, glowing, party-ready complexion is good quality skin care. Cleans, moisturize, exfoliate and revitalize your skin with these super-nourishing must-have products. Try out our Forever's aloe vera based one of the best quality products on the market.
2013′s flawless by Sonya's exclusive and unique Cosmetics
New and improved Forever Flawless by Sonya Beauty collection which will turn out to be your favorite cosmetic products. Order Aloe Skin Care now to try this one of the best aloe vera beauty products from Forever Living.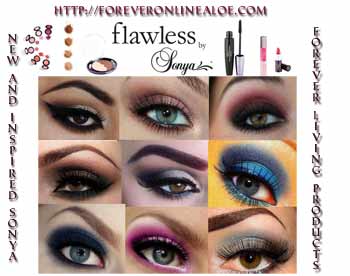 Check out this gorgeous Video: Flawless by Sonya beauty Collection.