Clean 9 & Forever Therm.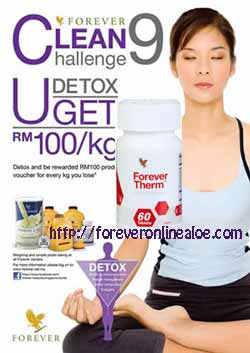 Weight management program always seems daunting to start and your goal can look like long term work. Don't waste your time on low quality products. Here are the best tips to lose weight naturally and can be the best result.
First step:
At the beginning your weight management program , start your body detoxification by establishing clean body with Forever Clean 9 (9 days weight management program ) that can help control your daily calorie-controlled diet and of course you may lose weight during 9 days.
In the Clean 9 pack you find all the nutrition , vitamin, minerals that may provide your daily need
Second:
We are always afraid that we'll get the fat back after losing the weight. Well, here is the new Forever Therm product that was created for the solution of this problem.
Forever Therm: created to accelerate your weight loss program.
New Forever Therm:

-unique combination of nutrients, such as vitamins, minerals and botanical extracts that can help boost your metabolism, may support energy levels and immune system, while burning fat.
Including:
Green Tea: With high value of antioxidants. Supports health, metabolic which is very important to lose or keep normal weight. Contains poly-phenol compounds that is plays a big role in thermogenesis, that is helps to provides burning fat in the cells.
Green Coffee bean extract: it is not found in high value, in roasted coffee beans. High value of chlorogenic acid compounds are help to support healthy blood sugar level. Those who have it in the normal range or extent benefits by prevention of cravings of food. In addition, we may get energy and vitality.
Forever Therm: blend of botanical extract like Raspberry Ketones for support your metabolism, full of indispensable Vitamins: Vitamin B with Vitamin C. These are essential in the metabolism of carbohydrates, for energy production, and protein.
It is necessary to cultivate healthy eating and daily exercise to lose and balance normal weight.
Suggested use: take daily 2 tablets. Recommended one tablet in the morning and at lunch or both in the morning. Not recommended after 6 PM
.