Free Registration at Forever Living Products! Choose your country to join.

Australia, Belgium, Belize, Canada, Columbia, Costa Rica, Czech Republic, Ecuador, El Salvador, Greece, Guatemala, India, Luxembourg, Malaysia, Mexico, Netherlands, Nicaragua, Panama, Peru, Philippines, Poland, Portugal, Singapore, Slovak Republic, Spain, Uruguay, USA.
Choose your country, follow the instructions and you will get signed up (absolutely FREE forever). When you registered as a  distributor you will be able to buy merchandise at discount, (and sell them for a 43% profit suggested price, plus bonuses). This could be a great business opportunity.
Fill out the form and start your new life. We  will be here  for you to answer all of your questions and support you in every aspect to grow your business if you choose. If not, you may continue to purchase items at the great discount price.
When you get your ID  & password  (by mail)  you are able to order products on your own from Forever web-site (you have to use "distributor login" button)
Registered distributor saving 15%-30% on orders of $100 or up. Minimum order $100
We will provide you with a free training and will support you all the way to grow your business.
 Join all the benefits of Aloe Vera Products and Opportunity.
Don't hesitate: register as a distributor and join Aloe Vera  products with wholesale price.
NO Registration Fee.
No Monthly Fee.
No Membership Fee.
No obligations to buy.
No obligations whatsoever
1. Does the company have a money back guarantee on the products?
-Yes, we have a money back guarantee! You can try the products and if you are not completely satisfied, just return for a full refund, less the shipping cost.
2. Is there a risk or is this company a scam?
-Forever Living Products Company has been in business for 35 years and operates in over 150 countries all over the world. Over $2.5 billion in sales in worlwide.
-There is no risk and this company is not a scam. Forever Living is an honest company. There are no hidden costs, no monthly fees, no registration fees, and no fees of any kind.
3. What are the benefits of a registered distributor?
➛ Useful natural products on  whole sale prices
➛ Save money
➛ Make money / you can do this part time or full time
➛ Free company training
➛ More knowledge about the products/business opportunity
➛ Healthy lifestyle
➛ Be successful in life
➛ Be in the wellness industry
➛ Be your own boss by  home based business
➛ Belong to the Forever Living Products family
➛ Be part of an honest company
➛ Find more quality friends
➛ Have a business world wide
➛ Benefit from 10 different ways to make money or just enjoy our products on discount prices!
Are these enough reasons to become a distributor and register right now?
Check out how you can achieve 30% discount
I'm always willing to help you if you want to start your own business!
Have you any question?
Contact me: Susan Peto (954)-297-8732 .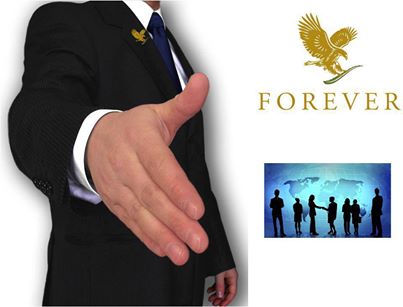 FOREVER LIVING PRODUCTS BUSINESS FOR EVERYONE
EVERYWHERE!!!
.