Men's Vitolize For Re-Vitality, Prostate & Urinary Health.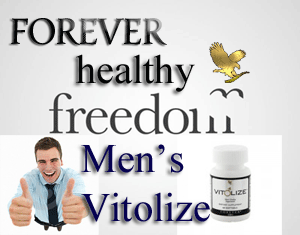 Men's Vitolize for more vitality. The prostate is a walnut-sized gland that surrounds the urethra, which carries urine away from bladder. Prostatitis, or unhealthy gland, is common in age above 40 men. This condition often turns chronic and the gland becomes subject to infection the discomfort is extreme.
In older men the gland enlarges (a condition called BPH, or benign prostatic hyperplasia) and interferes with normal urination. This problem is extremely common. In fact, as many as one in there men over age 65 have the condition.
What kind of herbs and minerals can help keep healthy men's prostate, urinary function and normal vitality ?
Forever New Vitolize for Men contains  these ingredients all together in a bottle:
-Proprietary blend of Saw palmetto, Pygeum, Pumpkin seed, Selenium, Zinc, Vitamin C, D, E, B6, and the most important Quercetin and Lycopene.
.
Saw Palmetto –This plant is a small, scruffy palm native to the Atlantic coast of the United States from South Caroline to Florida. The berries of the plant are a traditional folk remedy for prostate health and are required for the production of hormones. In modern clinical trials, the herb has proven its worth by greatly help for ideal hormone function.

.
Pygeum – this compound comes from a large evergreen tree native to Africa. The bark has been shown to reduce prostate enlargement in clinical trials.
It activates testosterone (which is good for prostate health). Finally, it has been proven helpful also for the maintain healthy function of the prostate .

.
Selenium & Zinc  – These trace minerals is powerful antioxidant on its own even more effective, but it boost the potency of Vitamin E , when two are taken together. Selenium plays a role in many vital functions in human body: an important supporter of producing sperm. Selenium also plays an important role to start produce again insulin in those cells who are not died.

.
Pumpkin Seeds  – also popular as traditional  folk remedy for prostate, helps urinary functions . In fact, the seeds are in a dietary fiber, vitamins, and minerals with anti-oxidants, added natural Vitamin C, D, E, B6  in the Forever  Vitolize -these ingredients is  highly boost your vitality and healthy power. Promote your immune system, help fight against free radicals.

Quercetin is a flavonoid widely distributed in nature, they are protects against in the body known as free radicals.
Forever Men's Vitolize contains special of ingredients that men need. Vitolize as a healthy young vitality in a bottle.
60 capsule/bottle for one month $23.94

Registered distributor  get 15% discount from retail price, register is absolutely free.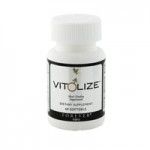 ORDER /

Forever Men's  Vitolize.
.