Forever Aloe Vera Sunscreen Helps Avoid Sunburns.
Aloe Vera have been used thousands of years for the best natural skin protector. Only Forever Living has a patented stabilized aloe vera based products that keeps all of the beneficial ingredients of Aloe Vera gel. Try our Sunscreen to keep your healthy skin.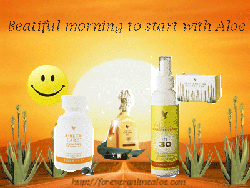 Forever Sunscreen Spry (SPF30)
-This natural sun spray most often used to sun-bathing or  applied to the skin as a cream before sun exposure. It may decrease the sunburn for skin. It has 30 SPF protection and aloe vera to protect your skin from the aging and damaging from the sun. You can keep healthy summer skin with Natural sun protection of Forever Living Aloe Vera products.
 Blossom Herbal Tea:
-It's often brewed and sipped, extracts from 12 different herbs can also be taken as skin protector. Most people apply wet tea bags to their skin, mostly for their face, to soothe sunburn and protect your skin from the aging.
More research is needed to back these claims, but lot of experience says this tea's can help keep skin healthy,smooth and fresh. Try to use before you throw out the used tea bags.
I used one filter with 1.5 liter hot water. Every day I drink  3 liter Forever Blossom Herbal tea because it cleans my digestion system  and I  feel more vitality, energy and free all day.
If you have problem with insomnia try to drinking it before  going to the bed to drink one cup hot tea, I'm sure helps relaxing your body.
Forever Blossom Herbal Tea made from following herbs:Cinnamon, Orange Peel, Cloves, Blackberry Leaf, Allspice, Fennel, Ginger, Cardamom, Aloe Blossoms, Gymnema Sylvestre, Chamomile. No caffeine in it. No side effects.
A-Beta-CarE, Beta-Carotine with Vitamin C, E:
–Taking this-combination of nutrients before going outside may help prevent sunburn. The blend seems to be the key, neither vitamin works alone for this purpose. In addition, there's evidence that creams containing vitamin C- can help in combination with zinc and bioflavonoids -decrease wrinkles in skin already harmed by the sun.
Beta- Carotine. This form of vitamin A helps give red flowers, yellow fruits and vegetables their color. Vitamin A also appears to help reduce the risk from sunburn in same people who are prone to it.
A-Beta-CarE beneficial ingredients:
-excellent blend of herbs, vegetables, fruits including Vitamin A (from Beta carotene), Vitamin E ,Vitamin C, and minerals, antioxidant and Selenium.
Beta-carotene is also a recognized antioxidant, making it an ideal companion for vitamin E and Selenium. These ingredients may help:

√ -maximum protect free radicals.
√ -helps  balancing healthy immune system.
√ -support circulation system.
√ -for healthy skin.
√ -boost physical energy.
√ -boost healthy hair, eyes, soot.
Registered Forever distributor get products up to 30% discount.




Registration is free. Click "JOIN NOW" Button.



Buy Forever Products Online !

.