Infinite. The New Anti-aging Skin Care by Forever Living
New 2017's Infinite skin care products. This Paraben Free Anti-aging skin care is your best natural solution for healthy skin. This product provides complete satisfaction and recommended for daily use.
Ingredients:  Aloe Vera
Good for all skin types. Cream or serum is not greasy. It will absorb into skin right away and it will help skin texture. After using it for a few days, you will still experience a notable improvement each time. Exclusive packaging, pump is being used for the bottle and it assures the right dosage for each use.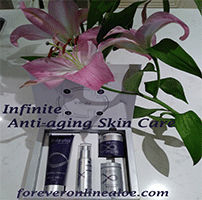 Forever Anti-aging Infinite Skin Care Includes:
Forever Anti-aging Firming Complex; Beauty goes deeper than skin. It begins with nutrition's.
This is an anti-aging daily use supplement that helps preserve the texture of skin and replenishment of collagen.
The companies first beauty nutritional supplement that helps inside out sustenance. Two tablets per day can benefit all the internal organs and systems at the same time improving your health and the look of the skin .
Hydrating Cleanser: This cleanser was intended for the gentle face skin in mind.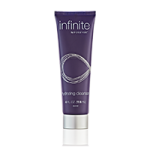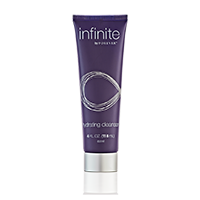 The apple extract and apple amino acids vitamin rich fruits are the main components. They will give the cleanser strong protection ability against the effects of aging. The moisturizing cleanser mild properties will leave the face soft and clean without drying it out. It does not only washes makeup and grime but it also improves the skin and makes it look and feel younger. At the same time it solidifies the foundation of the routine of your anti-aging process.
Firming Serum; All product line that's successful has a secret. This is ours.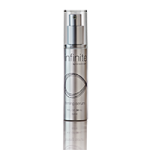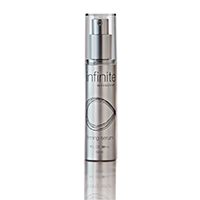 Aloe Vera and other two potent components working together to create this solution to make skin smoother, more elastic, wrinkle free and soothed. This stacked formula is a mix creation of nature and the most advanced laboratory findings, helping you feel better, look younger from this restoring crème.
This moisturizing recipe has more than 15 elements for conditioning. The Aloe Vera we use is synergistically improved with essential oil blend for anti-aging. All of the ingredients work together inside the crème to supply proven outcome and to deliver effects for soothing skin and impress all the dominant returns that your skin just received and it can begin the process of returning you to youth.
Restoring Creme; This cream is filled with more than 15 skin conditioning components just to complete the amazing line of anti-aging formulas!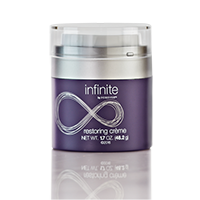 This unique formula features a proprietary blend of French melon concentrate, phytoceramides and marine collagen to help fight free radicals, reduce the appearance of facial wrinkles and increase skin's bounce, flexibility and hydration.
The French melon blend concentrate, phytoceramides and marine collagen assists the resistance to free radicals, decrease the look of facial wrinkles and intensifies the bounce of skin, hydration, and elasticity.
Forever Living Gives you the best solution for your healthy and beautiful face.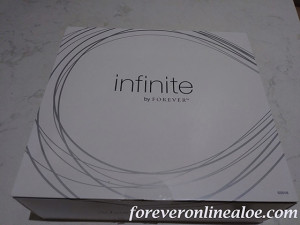 Buy Online Today your remarkable Aloe Skin Care