Paraben free Aloe Shave Gel and silky smooth face.
Paraben free, preservative and alcohol free luxurious Aloe Shave Gel will make you crave lathering up just for the great feeling it leaves. Aloe Vera locks moisture into the skin, leaving it soft, smooth and well-hydrated, while also creating a protective layer between you and blade. What used to be your daily chore of saving is now your daily nourishment and just another way to look better and feel better!
Plus, Aloe Shave uses the latest patented technology in its packaging, with an all-plastic dispenser that is environmentally friendly. It has no propellants, no metal parts, no unnecessary waste!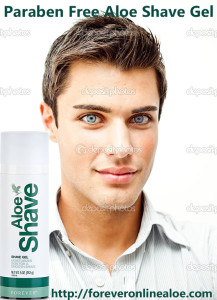 How much time do you spend shaving? Really think about it. Now with all that time, wouldn't you want to use a shaving gel that you believe in?
You should wake up with a morning routine that you step out and feel confident to conquer each day. When you pick up your favorite products, you should have faith in what they are doing for your skin. As experts in Aloe, we know it's the best products to help soothe and protect you from the irritating process of shaving. Use daily Paraben free Aloe
Shaving Gel.
Paraben Free Aloe Shave Gel:
To that potent our Aloe Shave Gel product, we produced with pure aloe barbadensis leaf (stabilized),we added arginine, coca, glycerin, and mild conditioning agent , as well as a well- known naturally occurring amino acid. These ingredients give your skin velvety, moisturize, protect and makes pleasant smell. Disodium cocoamphodiacetate is derived from the fatty acids of coconut oil and helps produce foam, as well as softens your skin.
Not added harmful ingredients or  preservatives!
Directions; gently rub a generous amount of Aloe Shave
onto wet skin to produce a lather. Shave carefully. Rinse after shaving.