New Forever Aloe Makeup Flawless by Sonya Beauty Collection.
Our  Aloe Vera inspired New and improved flawless aloe makeup & beauty of Sonya collection which are from start to finish absolute natural, healthy makeup collection.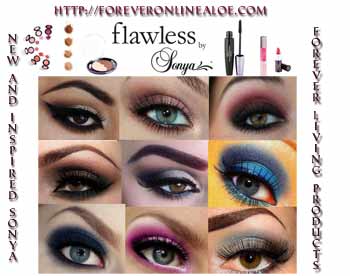 Take the few step for your beauty:
1. Aloe flawless by Sonya Aloe BB creme with Cocoa (SPF 10 sunscreen) or Nude (SPF 20 sunscreen) which  is excellent-active complex that hydrates skin, and generates silk, matte colors and ensures healthy sun protection in your face.
.
2. Second: apply one of the best aloe makeup Sonya Cream to Powder Foundation that is a pale smoothing  of the face and  decolletage area. Including Aloe and Orchid extract, these are together creating excellent texture that helps your skin may look smoothly, silky, velvety and faultless finish.
.
3. Then Sonya Concealer Duet: we have 3 perfectly paired, aloe inspired concealer shades in easy-to-use, double ended pencils that blend flawlessly for concealing imperfections. 2 shades per pencil, the soft, creamy texture and silky, smooth finish blend into the skin for customized color application.
.
4. Choice one of 6 different variety colors of the Forever New 2013's Pair Eyeshadow: this uniquely paired, color combinations was developed to take the guesswork out of creating gorgeous shadowing on the eyes. The silky aloe inspired formula is designed to blend perfectly and deliver great color application for perfectly paired eyes.
.
5. Forever aloe inspired,  Silky-powder Blush delivers perfect, sheer color to highlight, contour and define your cheeks, creating a natural, healthy and beauty glow. available in 6 shades.
.
6. Aloe Finishing Powder isa aloe inspired delicate Finishing Powder set and a perfect makeup. It also helps control unwanted shine, while creating a smooth, natural flawless finish. available in 2 perfect shades: Light-Medium and dark.
.
7. Use Lengthening and Volumizing Mascara. Lengthening Mascara can create natural looking, high definition lashes that are long , luxurious, defined and separates for unforgettable eyes. Our Sonya Volumizing Mascara creates volume and curl for glamorous, dramatic lashes coating each lash with a velvety finish, leaving them looking beautiful, healthy and flawless.
.
8. Forever Defining Lip Pencil:perfectly textured Lip Pencil, in our creamy, aloe vera infused formula are designed to enhance the natural shape of the lips. Available in 3, color-coordinated shades that blend perfectly with our flawless by Sonya.
.
9. And the end we used gorgeous, delicious Sonya Lipstick and Luscious Lip Colour that is posted the crown on the makeup. 12 different colors of  new luxurious and deliciously flawless lips from sheer to dramatic, are delicately flavored with delicious vanilla and will leave your lips delightful and looking flawless.
.
The Luscious Lip Colour nourishing gloss is infused with very own Aloe Vera. 5 vibrant and subtle shades shimmer with a touch of a button. The  wand lights up for a perfect coverage in any light. Perfect your lips using the built-in mirror for flawless application. Shimmering gloss is great for attracting light and creating a sensational smile.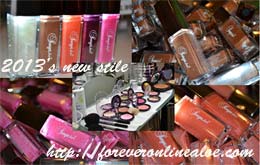 VIDEO:

flawless by Sonya makeup by Forever's cosmetic artist; Veronika Kozma
It was made in Hawaii on Forever Global Rally in 2013. Excellent help for you that shows how you can use it easily from start to end. Your makeup with New and Improved Forever flawless by Sonya product for you to look youthful and beauty.
 If the Video wont open in your country, please use THIS LINK
Forever created in 2013 luxurious flawless by Sonya natural beauty & cosmetics  products. I tried and immediately fell in love with these fantastic products, that  works like magic.
ORDER Our Gorgeous Cosmetics Products.
If you like to buy products for better price, use JOIN NOW button to register. All registered distributor enjoy products up to 30% discount. Registration is absolutely free Forever! No fee or obligation to buy.