Forever Women's Vitolize for Vitality.
Supplement for Re-Vitality and Menopause.
Every women's dream after a certain age to keep their beauty and . A lot of people think that getting a facelift or a plastic surgery will solve all of their problems. That's not true. Youth and vitality comes from inside of the body. When are we feel good? When we are feeling healthy, vitality and powerful energy. The only way we can stay healthy for many years, if we keep maintain our body by giving everything it needs. Discomfort, which must owe PMS, menopause, or not optimum urinary tract function, which may be related to hormonal changes and special nutritional needs.
Good news! New  Forever Vitolize may help re-vitality your body!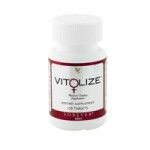 Forever VitoLize ™ ♀ Women's Health Supplement specially the female needs in mind, designed of natural blend of  antioxidants,including  rich in vitamins and minerals  , that is comes from herbs and fruits. Botanical Blend Forever  Vit ♀ Lize ™ proprietary blend of herb and  rich of phytonutrients of plants, including apple powder, cranberry fruit powder ,schisandra berries and , passion flower. All of these plants have been used for centuries by keeping the balance between hormones and overall health and well-being in order to preserve.
Vitolitze Ingredients:
√ Proprietary blend of plants, including passion and Schisandra berry,apple fruit powder , each of which is a traditional plant has long been used as a natural help for women vitality √ Cranberry Fruit-force, which is made according to a patented process, reinforcing the power of natural nutrients , reducing the maximum length of gastrointestinal tract where they can be absorbed through a time-released mechanism.
√ Magnesium, Vitamin C and B vitamins that support the essential hormone production
√ Iron and calcium, two significant mineral, which helps to the maintain of women's cardiovascular and bone health..
possible benefits of above ingredients:
√ Assists a healthy balanced maintain Menopause.
√ Insured nutritional supplement for hormonal balance.
√ Promotes urinary tract health.
√ Helps balanced good mood.
√ Support defense from free radicals.
√ Supports healthy immune system.
√ Natural supplement for women health.
√ Vitolize Maximum power for Women vitality and feeling as a youth after a long day.
120 pc capsule in a bottle balanced your vitality one month.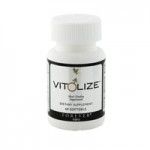 ORDER / Forever Vitolize Supplement.
.